Rabbi Chaim Brovender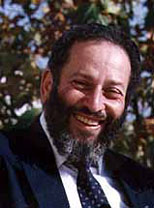 For almost 40 years, Rabbi Chaim Brovender , President of the ATID Foundation, has stood at the forefront of pioneering Jewish Studies programs for highly educated young men and women who come to Israel from all over the world to study in an Orthodox environment.

Born in Brooklyn, New York, Rabbi Brovender attended Yeshiva University before making aliya to Israel in 1965. He received his Doctorate in Semitic Languages from the Hebrew University of Jerusalem in 1974. While studying for his doctorate, Rabbi Brovender began teaching students who had come to Israel for the Hebrew University's overseas program.

Soon after, Rabbi Brovender established Yeshivat Hamivtar for men, teaching Torah to beginners in an open, intellectual environment. At the same time, with the founding of Michlelet Bruria (today, Midreshet Lindenbaum), he revolutionized women's Torah study by introducing in-depth textual study and Talmud to women's learning, paving the way for other women's yeshiva-style institutions. In 1987 these schools merged with Ohr Torah Stone Institutions, where Rabbi Brovender serves as Dean and Rosh Yeshiva.

In 1999 Rabbi Brovender and Rabbi Jeffrey Saks founded ATID, the Academy for Torah Initiatives and Directions in Jewish Education as an independent institution to train the future leadership of Jewish education, and to invigorate the field through the production and dissemination of new visions and strategies to deal with the crucial issues facing the field.

ATID's long-range programs include the ATID Fellows, a training fellowship for Orthodox Jewish educators and future educational leadership; initiatives to promote a meaningful place for the arts in Torah education; proposals for school reform; professional and institutional development projects with lead-schools in Israel and the Diaspora; and a research and publishing division. Rabbi Brovender serves as President of the institute. ATID has attracted a committed team of staff and fuculty, among the leading Jewish educators in Israel, from the worlds of traditional yeshiva study, practitioners in the field, and academics. Graduates of the ATID Fellows program serve in senior educational positions in Israel and throughout the Diaspora.

Rabbi Brovender has used ATID as a forum to advance his longstanding interest in finding a place for the arts within Torah education. He is one of the very few leading Jewish educators to examines the potential of the exposure to art as a trigger for the larger goals of religious education, and has boldly outlined the role that art and the creative process might play within a traditional Jewish studies curriculum. By way of demonstration Rabbi Brovender sometimes "reads" paintings, explaining the "Midrash" of the great works of art.

Visit www.atid.org/resources/art.asp for more information on ATID's Art Initiative.